Now, I must say that I'm not so great at giving gifts mostly because I like to keep things simple. More stuff, doesn't equal simple in my world. However, I wanted to put this gift guide together to help you keep it simple this year. I'm more for gifting experiences or services than material goods which you'll see reflected in this guide.
So why the gift guide?
But I know that in order to simplify YOUR life, I wanted to share some ideas that would make life simpler for you during the holidays, birthdays, and "just because" days that you need gifts for.
I love a "just because" gift and you'll find that these lists include items at all price points for all types of people in your life, that you can gift all year long. I hope you find it helpful.
"This post may contain affiliate links, which means I receive a small commission, at no extra cost to you, if you make a purchase using this link."
For the tiny people in your life (0-5 year olds)
Reading Bug Box: this is one my favorite new gift ideas this year. we have gotten hooked on podcasts with our little ones and the Reading Bug Adventures is a real hit. The podcast is really well produced and thought out and is created by the family that owns the reading bug, a bookstore in California.
Highlights Magazine: a classic you may remember from childhood. sending a magazine subscription is a simple way to let the kiddo know you are thinking about them all year long. they also have great hidden picture books if you are looking for a quick one time gift.
Magnatiles: one of the best toys we have in our house. kids and adults can create for hours using these. you don't need the name brand set here. this generic one that I've linked for you is great. I would suggest getting more than one set if you have creative kids on your hands!
Little People Riding Car: it has survived years of rides up and down the hallways and it still works great! my biggest kid received it as a 1st birthday gift and 3.5 years later is still fighting for her turn riding it. its fun, inexpensive and super durable.
Cozy snowsuit: this is the one my kiddo's wore and it's perfect for the midwest winters. durable, warm, washes well and easy to put on!
Mr. Potato Head: the classic toy of our collective youth, Mr. Potato Head will still keep kids entertained for hours at a time. I like getting a set with lots of parts and at least two potato heads to encourage even more creative play.
For the middle aged kiddos (5-10 year olds)
Highlights: they have something for all age kids, and the 6, 7, 8 year old's still really like getting something of their own each month. It's fun to curl up with a magazine that is tailored just for you!
Reading Bug Box: see above. this great family owned bookstore located in San Carlos, CA got us hooked with their amazing podcast, and also creates custom boxes of books for kids of all ages.
Legos: I love legos for kids of all ages. Sure you can do a specific set, but I think to get their creative juices flowing, a creative brick box is the way to go. It allows kids to create whatever they can think up, and keeps things simple for you. Why? they will never be looking for that one specific part that finishes the project the see on the box!
Art kits: I like a few sets for kids.

spin art is super fun and only a bit messy
this coloring folio is great for holiday road trips and quiet time
the light up tracing pad is art meets technology...and is just cool!
have an artist with a ton of old crayons? this crayon melter is perfect for them!
this crayola inspiration art set is a great start on their creative journey.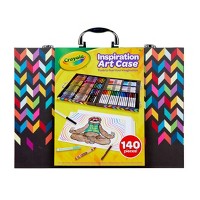 Keva blocks: for the super creative kid, these are fantastic. They seem super simple, but your kiddos will spend hours building unbelievable structures.
Lincoln logs: so many of us had these lincoln logs growing up and they are back! such a great gift that you will enjoy playing with your kids.
For the bigger kids (tweens and teens)
Magazine subscription: pick a topic they are interested in and find a magazine that works for them. there is a magazine for everyone from the fashionista to the aspiring woodworker, from the scientist to the future chef.
Super comfy hoodie: Because I have 4 of these and the husband has 5 of them and every teen I know wants to live in a comfy hoodie. This is the one I wear all the time and the only brand of hoodie I own.
Kiwi Co crate: You might think about this company for little guys, but they have great boxes for big kids too (all the way up to 104 years old!). The Eureka Crates, Maker Crates and Tinker Crates are great gifts for the curious creator in your life. Super hands on gift that keeps on giving. Use the code SHARE30 for 30% off your first months order.
Personalized wall decals: I like using FatHead or Etsy for this depending on what you want to create. You can turn anything you want into a vinyl wall decal, and they make a great gift for the person in your life who changes their preferences weekly 😉 Think giant pics of friends, inspirational quotes, favorite sports teams, or anything else you dream up.
For moms and other lovely ladies
My favorite pj's: these cozy pj's from Target are the best. I love being cozy and since I work from home (bonus!) I can work in cozy things all year long. But this is the pair that I'm totally into right now.
Slippers: slippers and a robe always feel so decadent to me. something about them takes me away to vacation. Here are a few pair that I'd be happy to have, and I think you'll love. These, these and these.
A night off: that's right a night off to go do something on your own. I would maybe a pick personalized yoga class with my friend, Sasha from Sasha Pick Wellness, a cooking class or even a night wandering around Target on my own.
A cleaning lady: need I say more. what a great gift to give someone. If they already have a regular cleaning crew, try gifting them a personal chef, a home organizer, or something else just as helpful.
A manicure: sometimes just 45 minutes of pampering is the best gift of all. great for teachers, gift exchanges or grab bags, a manicure is typically under $20 and can be enjoyed by all.
Sorel Boots: These boots and these boots from Sorel are my absolute favorite. Full disclosure, I have 5 pair of Sorel boots/shoes, so I might be a little biased. They are warm, durable and I wear them all winter long!
Gray t-shirt: your new favorite shirt and the one that inspired this whole blog! It's my favorite, it's often on sale this time of year and I love it. I just ordered two more...now I'll have 5!
For dads and other dudes:
Tickets to sports game: this only works if they like sports, but a win every time if they do. it means time away doing what they love. want to make it even more special, team up with your guy's best-friend's significant other and buy them tickets together. want to go over the top, add a gift certificate for dinner in with it!
Gift certificate for his favorite hobby: any hobby he has from woodworking (a class), gardening (favorite garden center), beer brewing (local brewery holding a class), running (new pair of shoes or gear), to couch sitting (new pillow and blanket) can be turned into a great gift.
Adopt a Maple Tree: I bought this for the husband last year from Kettle Ridge Farms and he loved it. We are still using the maple syrup and it's super cool to support small businesses like this.
Hot sauce of the month club: does the dude in your life like things spicy? Send him a new box of hot sauces every few months to keep him on his toes.
Bourbon (or other favorite alcohol) tasting: Many local liquor shops hold tastings. Check with you shop to see when the next tasting is of your guys favorite alcohol. Get tickets for him and a buddy to go.
Dad hoodie: The staple of the dad in our house, this hoodie is worn almost everyday (it's a good thing his office is casual all the time).
Helpful places to buy gift cards
Local grocery store (Jewel, Kroger, Marianos, Plum Market, etc): can't buy online, but normally available at the checkout
Trader Joes: can't buy online, but available in stores, add a reusable bag and you've got a great gift to give.
Zappos: because everyone needs shoes and no one ever likes to buy them. I think zappos is the simplest for their free shipping and free returns for a long time...buy a ton, set up shop in your house and send back what doesn't work. So simple!
Great family gifts
Museum membership: I like to suggest one on this list because there are so many reciprocal museums you can visit.
Photo shoot: find a local photographer and get a set of family photos done (if you are in chicago, louisville or detroit area, I'm happy to help with this one)
In home cooking class: gather your family (as many or as few as you would like) and have some one come into your home to teach a cooking class. This can be as complicated as or as simple as you would like. Everyone learns, eats and laughs together. (check out this page for my information on this type of experience, or let me know how I can help you find one in your area)
Art studio experience: find a pottery, painting, knitting, crafting studio near your home and book an hour or two for your family to create together.
Giant puzzle w/bucket of treats: gift your family the gift of togetherness with a large puzzle and lots of snacks. this works best if you have a dedicated space to leave it and then come back to it. Set aside 30 minutes a few times a week to reconnect or an hour each weekend until its done.
Tent : for camping in the great outdoors or just your backyard. This one or this one are good options for the family
Favorite just because (good for any age)
Cozy blanket: because everyone needs a good snuggle
Something of the month club: because everyone likes a surprise more than once
Coloring book & colored pencils: because everyone can do this
Chia pet: because it's hilarious
Cozy socks: because everyone wants warm feet. for kids, for ladies, for dudes